The Most Prestigious Landscape Design by Your Local Monmouth County Landscapers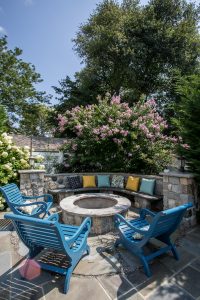 When it comes to landscape design, you want it done right the first time — and every time. Meet the team of New Jersey landscape designers at Jersey Landscaping, LLC. We started in 1976 when Dennis Malibashka decided to pursue his passion and hobby of landscape design. In the past 40+ years Jersey Landscaping has evolved into a multi-faceted contracting company covering all bases of the outdoor realm, from landscaping, to irrigation, outdoor lighting — and much more! Jersey landscaping proudly offers outdoor landscape design that works for you AND your area!

Full Landscape Design Service from Trusted Monmouth County Landscape Designers
Monmouth County landscaping has some unique quirks: some of our towns have higher water tables, while some have rockier soil. No matter where you live, our professionals can offer you a full gamut of landscape services. We'll ensure that your home's design is as efficient as it is beautiful. Our landscape designers are highly experienced in:
Landscaping Design and Installation
Irrigation Systems
Outdoor lighting
Walkway & driveway paving
Patio & deck design and installation
Outdoor Living (kitchen, etc) design and installation
Are you ready for a fresh new landscape design? Jersey Landscaping, LLC can help! To speak with our team, or to get a FREE ESTIMATE, fill out our request web form or call us at 732-462-4289. Call us today to see which of our landscape services can make all your backyard dreams come true!