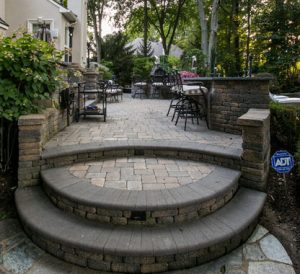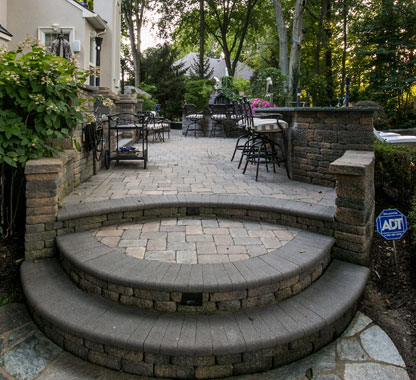 When it comes to natural stone landscaping or a beautiful patio steps for your backyard, there's only one company to trust—Jersey Landscaping. We have built a long reputation for quality and craftsmanship becoming the only name you can trust for patio installers in NJ.

NA Patio and Paver Contractor You Can Rely On
As New Jersey's trusted paver contractor, we know that nothing increases the elegance and curb appeal of a home like natural stone. Steps are a wonderful addition, whether you choose colorful patio steps or alternating patio blocks as a border between plantings and interlocking paver patio steps.
Remember, not all landscaping companies are the same. When you speak with one of our fully licensed and insured paver and patio installers, you're getting true expertise from a design architect who can suggest a variety of luxurious natural stone steps that are eye-catching from a distance and look even better up-close.
Stone Patio Installers Can Help Add Depth to Your Home
Natural steps lend a degree of sophistication to any home, by creating an air of timeless beauty and effortless, maintenance-free stability. Jersey Landscaping's patio installers can help you build a design plan that highlights your steps for a lasting touch that will impress neighbors and visitors alike! Unlike other landscaping companies, Jersey Landscaping:
Uses naturally sourced stone
Works with trusted distributors and manufacturers
Keeps you involved from the first day
Has over 40 years of experience
Ensures that you work with a paver contractor you can trust
When it comes to natural stone landscaping, we know what works and what doesn't for our New Jersey clients. We can create a landscape design that works for any size space on any type of soil. We've been a trusted member of the Monmouth County business community for almost four decades—and we're looking forward to the next four decades, too!
For more information on our extensive selection or to get a FREE ESTIMATE, fill out our Request a Quote form or call us at 732-462-4289.