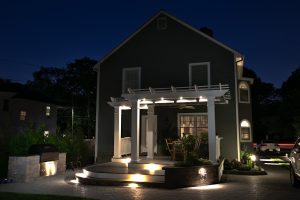 Make the most of your green areas with the professional outdoor lighting solutions from Jersey Landscaping. Whether you're looking to enhance the value of your home or simply trying to add a bit of ambience to gatherings under the stars with family and friends, we offer landscape lighting installation services that will work for your needs. We use low voltage lights in our custom landscaping, so that you can save money by using less electricity. Of course, using less electricity helps to conserve the planet's natural resources, too, so go ahead and indulge yourself with the outdoor patio and walkway lighting you've always wanted. One of our fully licensed and insured outdoor lighting designers can help you find an affordable, low-maintenance way to beautify and protect your home for years to come.

Outdoor Landscape Lighting Installation Keeps You Safe
Outdoor security lighting around pools, wishing wells, and ponds is often a must for insurance purposes, so why not be safe while also sprucing up your outdoor landscape? Lighting our NJ clients' patios, pools, and water features lets us add hours of fun to your family gatherings, birthday parties, luaus, and more. Thanks to increased visibility in the dark, outdoor security lighting helps older people and those with handicaps spend more time outdoors while also providing an effective deterrent to intruders who would rob you of your peace of mind at home. At Jersey Landscaping, our custom landscaping designers pride themselves on creating discreet outdoor landscape lighting plans that at once harmonize with your existing landscaping and offer minimal intrusion to animals or birds that may call your home theirs.
Call us today at 732-462-4289 or fill out our Request a Quote form for a FREE ESTIMATE or for more information about our landscape company and the services we provide. We'll be happy to tell you all about our wide selection of professional outdoor lighting products and help you decide which type of illumination is the perfect fit for both your goals and your budget. Don't spend another minute in the dark: contact us today!