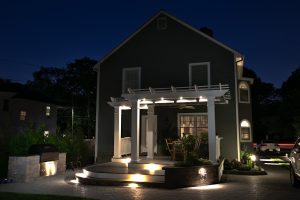 Be creative with outdoor lantern lights in your landscape lighting design. Versatile outdoor lantern lights can be place on any flat surface or hung on a hook throughout the yard. Whether you are looking for illumination for your gardens or focusing attention on your patio tables, along walkways or by entry ways, outdoor lantern lights are beautiful and affordable ways to enhance your New Jersey home.


Outdoor lantern lights come in a wide variety of designs. Our expert staff can explain the differences in the candle version or the LED outdoor landscape lighting options. Outdoor lantern lights come in several different styles, from English cottage to Japanese garden. These unique lighting sources feature low voltage lighting and are affordable to any budget. In addition, outdoor lantern lights have different colored panels that can create a plethora of color options to go with the style and theme of your house. If you want to add a more dramatic touch, you can add patterned panels that will create whimsical patterns on your walkways or gardens at night.
For unique and beautiful outdoor landscape lighting, ask us about using outdoor lantern lights to enhance the beauty and character of your home day and night!
For more information on outdoor lantern lights, our outdoor landscape lighting services or to get a FREE ESTIMATE, fill out our Request a Quote form or call us at 732-462-4289.