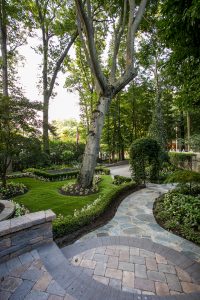 Our landscape architecture design team can turn your home into the talk of the neighborhood. We are a leading landscape architecture firm that can combine our years of expertise with your own personal touch to make your property the way you always dreamed it could be. You'll find yourself in lush, uncluttered spaces that are every bit as relaxing as they are innovative. In no time at all, everyone will be talking about how your home's exterior has been transformed into an oasis of natural beauty and tranquility.

Residential Landscape Architecture
What better way to unwind from the rigors of the work week than by soothing your senses under a cool shade tree next to a bubbling fountain or babbling brook? Our residential landscape architecture specialists can turn your property into a place you can't wait to come home to – one that everyone will recognize as uniquely you. And, when your neighbors ask who helped your makeover become a reality, don't forget to mention the best landscape architecture firm in New Jersey – Jersey Landscaping!
For more information on our landscape architecture design staff, to learn more about how residential landscape architecture can help improve your home's curb appeal and resale value, or to get a FREE ESTIMATE, fill out our request a quote form  or call us at 732-462-4289.