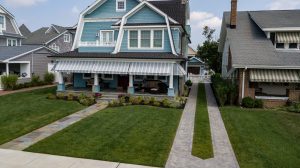 Our lawn care services allow you to relax and enjoy your lawn. You no longer have to worry about mowing, aeration, chemical treatments, or insecticides. Our talented staff will care for your lawn, carefully monitoring it and providing the services it needs to flourish and look beautiful every day. Our specialists can test to see if your lawn is healthy or if it needs any treatments for insects or diseases. With proper fertilization, your lawn will look fantastic throughout the year.

Lawn Care: Landscaping
With lawn care landscaping, we design a plan to handle all your lawn care services throughout the year. We schedule time in the spring for aeration and seeding, discuss proper irrigation, cultivate and monitor throughout the summer while checking the health and vitality of the lawn, and prepare it for the harsh winter months. For the very best in lawn care in New Jersey, you can trust Jersey Landscaping, LLC to handle all your lawn care needs.
For more information on our lawn care services or to get a FREE ESTIMATE, fill out our request a quote form or call us at 732-462-4289.