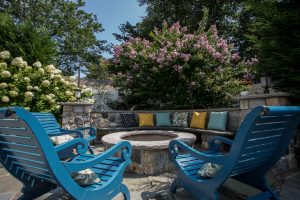 It's only within the last few years here in New Jersey that we've seen outdoor firepits elevated to an art form. Here at Jersey Landscaping, our dedicated, professional staff is standing by to make your patio firepit dreams come true. Whether you have your heart set on a simple outdoor firepit or want to jazz up your outdoor space with enhanced features such as an outdoor stone fireplace, statuary, stone wall or complete outdoor kitchen, our designers will work with you to create the landscape and hardscape you've always yearned for at a cost you can afford.
Outdoor Living – Firepits
Those of us who live on the east coast are reconciled to living indoors for at least 6 months out of the year. However, we believe that it's possible to extend your outdoor living space with a simple patio firepit or complete outdoor stone fireplace. We create magnificent outdoor living areas using natural stone steps or stone retaining walls to enclose your patio firepit and protect the rest of your outdoor living space from sparks and ash. A backyard essential, outdoor firepits can add a touch of elegance and sophistication. A circular stone firepit or full size outdoor stone fireplace is a warm and welcoming feature to include in your outdoor living area.
The outdoor living oasis you have always wanted is within your reach. Call us today at 732-462-4289 for more information on our outdoor firepits or stone fireplaces.