Expert Outdoor Kitchen Builders at Your Service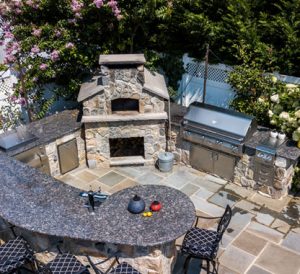 Not all outdoor kitchen builders are created equal. When you want the highest-quality materials and personalized service, you want a landscape contractor from Jersey Landscaping. Our custom outdoor kitchens are tailored to meet your specifications so you can enlarge your living space and enjoy your backyard. You'll wonder how you ever lived without one!


Custom Outdoor Kitchens to Fit Your Unique Lifestyle
Fully equipped custom outdoor kitchens are the hottest trend in backyards across New Jersey. Extending homes into the outdoors, outdoor kitchen builders are empowering people to prep, cook and eat amid the calm of nature without the worry of leaving the sliding glass door open. Plus, you can enjoy this experience year-round.
Whether you're looking for a luxury design to elevate your outdoor entertainment, or just a few elements to make eating outside more convenient, Jersey Landscaping has you covered. Our outdoor kitchen builders can create a space that is perfect for your entire family. We've been creating gorgeous designs for Monmouth County homeowners for more than 40 years, with a proven track record for making clients happy.
Meet with a Licensed Landscape Contractor about Your New Outdoor Kitchen
Stress-free entertaining is now in reach with everything from refrigerators and sinks to storage and even kegerators! The possibilities are endless. With Jersey Landscaping, you work with an insured and licensed landscape contractor to create the outdoor living space of your dreams. We create custom outdoor kitchens complete with:
Bluestone patios
Stone fireplaces
Stone firepits
Outdoor pizza ovens
Outdoor kitchens
Natural hardscape landscaping
For more information on custom outdoor kitchens or to get a FREE ESTIMATE, fill out our Request a Quote form or call us at 732-462-4289. We proudly serve clients in and around Monmouth County, and offer locally sourced materials for all your outdoor living space needs.