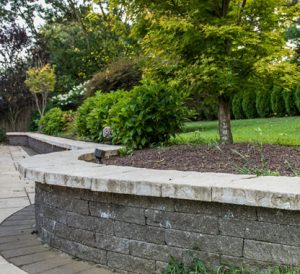 When installed correctly, retaining walls in NJ yards protect you landscape while adding flair to the overall space. That's because landscaping with stone walls can provide a depth and sophistication to your landscape design. The New Jersey landscape contractors of Jersey Landscaping,  have what it takes to create gorgeous outdoor spaces using natural stone.

Stone walls can be used to:
Correct a steep slope
Enhance a decorative garden
Hold back soil and rocks that might otherwise slide
Protect buildings in marshy or flood-prone areas
Set off water features
Our talented staff can ensure that the retaining walls in your NJ yard will stand the test of time.  Our licensed and insured New Jersey landscape contractors consult with you, our valued client, to discuss all your short and long term property goals before we analyze the landscape itself. After carefully reviewing the blueprint of your yard and assessing weather conditions, drainage, and other factors, we create custom retaining walls featuring structural integrity you can trust.
Beautiful Landscaping with Stone Walls
Retaining walls in NJ can be built in a variety of textures and styles. From clean stone walls to modern concrete creations to natural rock walls, we can design a structure to meet your needs while also coordinating with the surrounding architecture and design.  Whether you like round river rocks or slabs of gray slate, we can create natural custom retaining walls that will last a lifetime.
At Jersey Landscaping, we create gorgeous custom stone landscapes. For more information on retaining wall installation or natural rock wall landscapes, or to get a FREE ESTIMATE, fill out our request a quote form or call us at 732-462-4289.