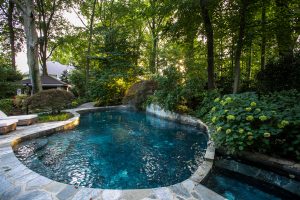 Imagine your landscape transformed with vibrant all-season plants, elegant pathways, serene water features and lighting effects. Whether you're looking for a private outdoor living retreat or a functional family space, our landscape design service of Jersey Landscaping can bring your vision to life. We are a NJ local landscaper that designs practical, livable outdoor spaces to uniquely suit the lifestyles and needs of the residents, guests, families, employees, and pets that play, work and live there.

Jersey Landscaping can handle the most unique landscaping challenges with creative and innovative solutions, and with expertise and knowledge that sets the industry standard. As New Jersey landscaping specialists, we never lose sight of the fact that residential landscape design requires continuity with the surrounding architecture and terrain, and continuity with itself. That's why we take into consideration the inherent qualities and natural rhythms of existing conditions. This creates a framework that allows nature to take over. The result is a living entity that continually grows into its full potential.
Our landscape designers work with you from start to finish, from initial design to completion of the project. We also will maintain the landscapes we design, nurturing them to become a true outdoor oasis.
Commercial and Residential Landscape Design – Our Landscape Design Service Process
CLICK HERE TO PRINT OUT LANDSCAPE QUESTIONNAIRE
Initial Consultation: We meet with you to discuss how the space will be used, what your vision entails, and what the challenges and opportunities of the project include.
Site Evaluation: We assess existing conditions and landscape features to make recommendations for improvements that highlight the natural beauty of your property while minimizing need for energy and maintenance.
Master Plan: From information gathered during the consultation and evaluation, we customize a plan that meets your needs, the requirements of your site and budget.
Build: As a design-build NJ landscaper, our designers are closely involved in all aspects of construction. If onsite challenges arise, our team collaborates to find solutions that ensure the vision and intent of the master plan are fulfilled.
Maintenance: Our services don't end with installation. While our landscapes are designed to be low maintenance, we can perform ongoing nurturing to ensure your space reaches its full potential.
Seasonal: At the start of each season, we offer complete clean up services for your property. View our process for spring.
Whatever your New Jersey landscaping needs may be, Jersey Landscaping, can provide you with creative and innovative landscape designs implemented by our professional staff that will surely make your property a work of art.
For more information on our commercial or residential landscape design services or to get a FREE ESTIMATE, fill out quote form or call us at 732-462-4289.