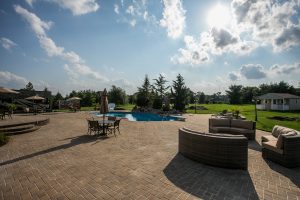 You should believe in your landscaper — and we want you to believe in us. We offer you a variety of paver and patio landscaping services that will fit with any style home. With Jersey Landscaping's huge selection of high quality, long-lasting patio pavers, there will be no shortage of style, texture, and color options to choose from as you try to decide on the right look for your patio. Landscaping with natural stone can add value to your home while providing elegant outdoor areas you and your family can enjoy for years to come. We'll be glad to help you make your choice of brick, concrete or stone, as well as assist you in finding the perfect design. And our paver installers can create unique designs at your home at a fraction of what you thought you would pay!

Patio Paver Construction Landscaping Services You'll Love
At Jersey Landscaping, you get more than just a landscaper: you get a design architect who can help you achieve your vision. Our fully licensed and insured contractors, designers and paver installers have many years of experience in patio paver construction. Our landscaping services allow for new patio and paver construction that works for every style space. At Jersey Landscaping, we proudly create:
Stone patios
Pool patios
Stone decks
Walkways and pathways
Outdoor living spaces
Stone steps
You'll be a vital part of the planning process, not just a homeowner standing on the sidelines. We'll make sure that you are well informed every step of the way and that all questions are answered to your satisfaction. Patio paver construction is our job, and when our customers are happy, we're happy!
Jersey Landscaping is the answer to all your patio paver & construction needs. We'll work with you, providing creative and innovative designs that will turn your property into a work of art.
For more information about landscaping with natural stone, or to get a FREE ESTIMATE, fill out our request a quote form or call us at 732-462-4289.