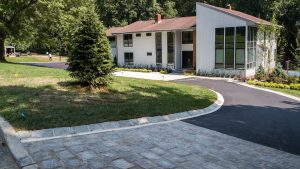 The paving of walkways & driveways is often among the last tasks homeowners tackle before moving into their new home. But it's just as important as any other home improvements. Walkways & driveways are the first thing your friends will encounter when they visit your house for the first time. We'll help you make the best impression possible!

Walkway Paving Stones
The staff at Jersey Landscaping has a great deal of experience in walking paving and driveway paving. We'll consult with you as you decide the type of paving you want—whether it's something traditional such as concrete driveway paving or something a little more involved such as colorful walkway paving stones—to ensure you'll be as proud of the walkways & driveways in front of your house as you are of the house itself!
When it comes to walkway paving and driveway paving, you'll be in good hands with Jersey Landscaping. We'll give your walkways & driveways a distinctive look.
For more information or to get a FREE ESTIMATE, fill out our Request a Quote form or call us at 732-462-4289.