If you wish you could spend more time enjoying you yard, then it may be time to start looking at outdoor fireplace designs. The fully licensed, insured and experienced contractors at Jersey Landscaping, LLC are here to help! We create beautiful outdoor fireplace designs for every type of yard.

See if Your Fireplace and Patio Design Mesh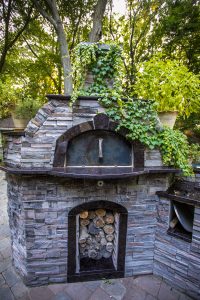 Interested in expanding your landscaping? We create gorgeous fireplace and patio designs for every lifestyle. We have plenty of styles to choose from, and can create a custom outdoor fireplace if you want something unique to you. So if you're in love with outdoor living in NJ, a fireplace is the perfect addition to your yard.
Outdoor fireplaces can:
Create a focal point in your landscaping
Draw attention to stone patios and pavers
Add versatility to your decks
Add warmth and usability to outdoor kitchens
Provide an intimate setting for quiet nights at home
Add space for large parties on warmer winter nights
At Jersey Landscaping, LLC your outdoor wish is our command. We pride ourselves on a seamless integration into your already-existing landscape. Don't already have a landscape? We can take care of that, too. We're been designing outdoor living spaces for NJ homeowners for more than 40 years. Our qualified team of landscape architects and contractors can create a landscaping plan that's perfect for you and your family — and add a gorgeous custom outdoor fireplace right into the mix. So if you're looking to add the fun in functional, it's time to give us a call.
If you're considering a custom outdoor fireplace for your yard, you've come to the right place! Let Jersey Landscaping, LLC come up with a plan for you. For more ideas about outdoor living in NJ or to speak directly with a designer, contact us today. You can even get a FREE ESTIMATE on your landscaping project, by filling out our web form or by calling us at 732-462-4289.