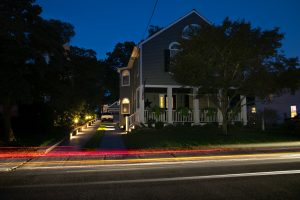 These days, we're all trying to save money, save energy, and have less of an effect on the environment. What better way than low voltage outdoor lighting solutions?
Our low voltage outdoor lighting illuminate more New Jersey homes and businesses than any other company. From our excellent customer service, to our money-saving, environmentally-friendly low voltage outdoor landscape lighting designs, Jersey Landscaping is the only low voltage outdoor lighting you can trust for function and beauty.

Outdoor Lighting Solutions that Deliver
The best part about Jersey Landscaping's low voltage outdoor lighting? We design and service affordable solutions that provide ambience for your patio, driveway or outdoor recreation area and security for your walkways, entranceways, or commercial parking lots. That means you can count on safety and beauty, completely customized to you.
Low voltage outdoor lighting, when properly designed, provides years of virtually maintenance-free beauty, security and unparalleled ambience. Our designs have been enhancing and protecting area seniors' centers, parks, playgrounds, plus private homes, apartment and office complexes for over 40 years.
Call Us for Low Voltage Landscape Lighting Today
Anyone can install lighting throughout their landscape, but only the professionals and Jersey Landscaping take every aspect of your environment into account.
Now you can protect your home or business from intruders while simultaneously beautifying your landscape and saving energy. With just the touch of a finger, you can control your ground level low voltage landscape lighting or program your motion detectors and night lights to turn on and off according to your schedule. Plus, our low voltage outdoor lighting solutions use less energy than traditional landscape lighting, so you can feel good about helping to conserve our planet's resources while at the same time lowering your monthly electric bill. There has never been a better time to invest in the safety of your family or the security of your business.
Call us today at 732-462-4289 or fill out a Request a Quote form for more information on our low voltage landscape lighting.