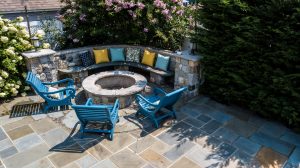 Spring is a time to start sprucing up your home. New landscape design is one way to give your house a little "face lift" after a long winter. The experts at Jersey Landscaping, LLC are here to help you do just that! For over 40 years, we've been coming up with beautiful spring landscaping ideas to help you give your house a boost.

Our fully licensed designers and contractors can help with:
• Foundation Plantings
• Tree and Stump Removal
• Lawn Care Maintenance
• Hardscape Design
• Decorative Lighting
• Stone Walkways
When it comes to your home, no landscape design is too difficult!
Your Pool and Landscape Design
Don't forget to give a little TLC to your back yard, too! Whether it's custom-designed outdoor living areas, patio and paver installation, or moonscape lighting, Jersey Landscaping, LLC has you covered.
Outdoor Kitchens
Low-Voltage Lighting
Ponds and Fountains
Spring and Summer Plantings
Fire Pits
Patio Pavers
Our contractors work with you to ensure that you're happy with your new backyard. Worried that your pool and landscaping designs won't mesh? Jersey Landscaping, LLC can help you create outdoor living areas as close or as far away from your pool as you'd like.
Call Jersey Landscaping, LLC today to talk about your home's landscape design. For more information on our designs, or to see outdoor living areas come to life, contact us today. You can even get a FREE ESTIMATE on your landscaping project, so fill out our web form at the top of the page or call us at 732-462-4289.