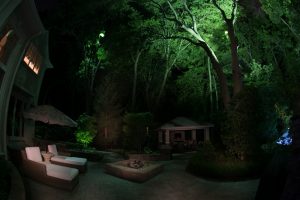 Of all the additions that can make the backyard a magical and enjoyable place, none quite capture the ambience of a starry night like moonscape lighting. An outdoor lighting moonscape can turn a backyard into an ethereal place, one that is seemingly far removed from the grind of the real world.

Finding the right outdoor lighting moonscape design can be a challenge, but the journey toward the perfect lighting arrangement is what makes home improvement projects like this one so rewarding. There are many options to choose from. "Up lighting" is the most popular moonscape lighting option and, just as described, illuminates the yard from beneath. "Down lighting" provides the opposite outdoor lighting moonscape effect by providing a replica of natural light that is placed on trees or other tall surfaces. "Low voltage" lighting is an inexpensive form of moonscape lighting that provides a mesmerizing effect while "line voltage" is an outdoor lighting moonscape solution that illuminates a larger patch of property. It is also environmentally friendly and lasts more than 10 times as long as a low voltage system.
An outdoor lighting moonscape is a landscape feature rapidly gaining in popularity with homeowners nationwide. Find out why by contacting Jersey Landscaping, NJ today and get started on your moonscape lighting project! For more information on outdoor lighting moonscapes in New Jersey or to get a FREE ESTIMATE on your project, fill out our Request a Quote form or call us at 732-462-4289.