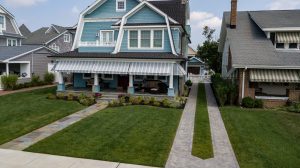 Noticing bare patches, water puddles or an overabundance of thatch? Looking for the best way to get the thick, lush lawn you've always wanted? Aeration service and seeding are what you need–typically in spring and fall. Jersey Landscaping is the Monmouth County area's leading aeration company that can help you prevent these issues and keep your lawn flourishing year-round.
Why You Need a Lawn Aerator Company
When you partner with a lawn aerator company like Jersey Landscaping, your lawn will better absorb nutrients and old roots will be revived. That's because aerating breaks up the layer of dead grass, called thatch, that builds up on your lawn, allowing more water, oxygen and fertilizer to get to the roots. This means your lawn gets more of what it needs to grow stronger and healthier.
When combined with seeding, aeration allows you to introduce new grass varieties that can help resist disease and prevent insect attacks. What's more, as your lawn thickens with the new seed growth, it will also be better suited to crowd out weeds. You should see that lusher, thicker lawn in the weeks following aeration service.
Depending upon your lawn thatch and compaction, you may need to have your lawn aerated once a year. And the good news is, you have the best lawn aerator company to rely on!
If you're interested in learning more about seeding and lawn aeration or would like to schedule a consultation, contact Jersey Landscaping today at 732-462-4289.