For the last 40+ years, Jersey Landscaping, LLC has created beautiful landscape designs for homes and businesses in and around Manasquan, NJ. Whether you want to keep your shore décor, or are looking for something completely new, our talented team of designers and contractors can build the outdoor space you always wanted.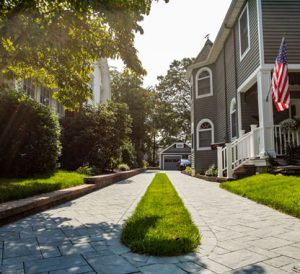 So what are you waiting for, Manasquan, NJ? Let Jersey Landscaping turn your beachfront home into a staycation resort!
A Wide Range of Eco-Friendly Services in Manasquan, New Jersey
As one of Monmouth County's premier landscaping companies, we stand by the work we've done for Manasquan, New Jersey home and business owners. We proudly offer a wide array of landscape design and maintenance services that add beauty and value to your space. You can trust Jersey Landscaping when it comes to:
Landscape and property maintenance. Our landscape architects create outdoor spaces with your style in mind. But we also maintain spaces that others have created. Whether you're looking to spruce up an office building or need a new look for your home, we can help.
Foundational plantings. The key to a successful landscape is a strong foundation. At Jersey Landscaping, we use locally sourced flora that thrives in the sandy soil of Manasquan, New Jersey. These plants and trees not only look natural, but add to the sustainability of your property.
Hardscape designs. Want a new brick walkway to your shop? How about a bluestone patio in your backyard? From retaining walls to poolside rock formations, our hardscapes add flair to any space.
Water features. We understand that the ocean will always be the most magnificent water feature in Manasquan. Landscape architects from Jersey Landscaping can help bring that majesty into your home or business by designing ponds and fountains that mimic the sea's natural beauty, or we can create a standout feature that makes your space pop.
Lighting designs. Good lighting brings an entire landscape plan together. Besides creating ambiance, outdoor lighting also adds to the safety and security of your home and business. You're less likely to be targeted by thieves or by vandalism if your space is well-lit.
Outdoor kitchens and eating areas. Homes and businesses both benefit from outdoor seating and eating spaces. They add hours to an enjoyable day with the family, and make lunch hours and breaks more relaxing for employees. Jersey Landscaping can create a complete outdoor kitchen for your Manasquan, NJ home.
Whatever you want for your new space, Jersey Landscaping can create it. We build custom fire pits, create cozy garden nooks and install all kinds of pavers. For our business clients in Manasquan, New Jersey, we offer commercial plowing services and sustainable property maintenance that keeps your allotted budget in mind.
Looking for the right Manasquan landscaper? Give Jersey Landscaping, LLC a call! We proudly serve clients throughout Monmouth County. Please call 732.462.4289 or fill out our convenient request a quote form to schedule a consultation.