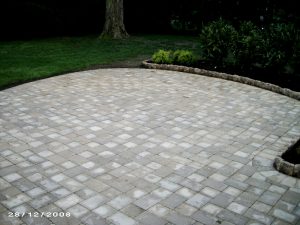 If you're looking for something both beautiful and eco-friendly for your new patio, it's time to consider bluestone pavers. They're durable and attractive, and come in a range of colors and shapes.  You can use uniform sized bluestone pavers or, to provide a more striking contrast, go with diverse shapes and shades.  At Jersey Landscaping, LLC, we've been creating gorgeous bluestone patios and walkways for more than 40 years. Our patio paver installers know exactly what you need, and work directly with you to give you exactly what you want.


Why Bluestone Patios are Perfect for Every Home
Bluestone patios are not only beautiful: they add value to your property while also giving you years of enjoyment.  Available in a variety of sizes, bluestone pavers can be installed in an assortment of designs. The architectural designers of Jersey Landscaping, LLC have created luscious bluestone landscaping projects including:
One-story bluestone patios. This locally sourced stone is perfect for yards that lie flat.
Pool patios. To give your swimming hole a more natural feel, our paver installers create a space around your pool that's both eco-friendly AND durable.
Multi-level outdoor dining spaces. Bluestone landscaping adds another layer of texture and design to any outdoor kitchen area.  The varying shades of color make the design unique to your space.
Front porches. Who says a patio has to be in the back yard? For multi-level homes and ranches alike, bluestone patios add an extra pop to the front of your house.
Water features and gardens. The best thing about bluestone pavers is that they work everywhere. We can install a bluestone patio around a fountain, koi pond or Zen garden, or even set aside a special place in the yard for you to relax.
Interested in a brand new bluestone patio? Call Jersey Landscaping, LLC today! For more information about our bluestone landscaping projects, contact us today. You can even get a FREE ESTIMATE on your landscaping project, so fill out our web form  or call us at 732-462-4289.