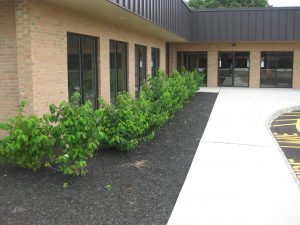 When owning a commercial business, you know that a first impression is a lasting impression. Commercial landscape services let your customers know that you care about how your business is perceived. At Jersey Landscaping, LLC we've been helping business owners make the most of the outdoor spaces design since 1976. From commercial outdoor lighting that keeps it "green," to winding pathways designed to lessen your employees' stress levels, our team is ready to create a space that makes any corporate climate look warm and inviting.

Commercial Outdoor Lighting for Every Space
Our fully licensed and insured team of contractors and designers offer commercial landscaping services designed to meet your aesthetic needs — and your budgetary ones, too. Jersey Landscaping, LLC has designed beautiful commercial outdoor lighting for:
Churches and Temples
Office plazas
Apartment complexes
Strip malls
Corporate centers
With our help, your employees and your patrons will feel safe and secure in and around your property. That's because we take our role as a commercial landscaping company seriously. We know that a safe, inviting space not only looks more professional, but it can help your neighborhood too. You'll watch the value of your property increase and the numbers of your patrons increase over time. With Jersey Landscaping, LLC you'll get commercial landscaping services that serve you and your community.
Outdoor Spaces Designs that Make Your Commercial Property Pop
Want a burst of color? A winding brick path? A water feature that draws the eye? Our outdoor spaces design team can make any corporate area stand out. From a bamboo Zen garden to an energy-efficient lighting design, we offer commercial landscaping services that get your business noticed.
Your commercial landscaping company choice should reflect the business you have: smart, professional and ready to take on the world. At Jersey Landscaping, LLC we strive to be the best. For more information about our outdoor spaces designs, or to speak directly with a designer, contact us today. You can even get a FREE ESTIMATE on your landscaping project, so fill out our web form or call us at 732-462-4289.