There's nothing worse than an enjoyable outdoor get-together ruined by a sudden downpour of rain. With an enclosed patio designed and installed by Jersey Landscaping, you'll never have to worry. You can sit back, rest assured that you have a beautiful closed in patio for all your needs.

Discover the Benefits of Your Own Screened In Patio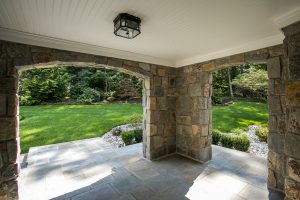 Whether kicking back with a glass of wine and a good book, or entertaining family and friends, a screened in patio is the perfect place to do it. You'll have an extension of your living space that's sheltered from bad weather, but open to views of your beautiful landscape.
When you consult with our team, you're getting true expertise from experts who can suggest a variety of luxurious enclosed patio designs customized to your unique specifications.
With a wide variety of flooring options, roof styles, railing systems, screening, storage space, fireplaces, and other details, we'll create a space that's perfectly suited to your lifestyle.
Screened in Patio Hand-Crafted with Quality Construction
When it comes to a screened in patio, Jersey Landscaping knows what it takes to exceed your expectations. We've been a trusted member of the Monmouth County community for four decades—and we're looking forward to many more to come!
For more information on our enclosed patio designs, or to get a FREE ESTIMATE, fill out our Request a Quote form or call us at 732-462-4289.