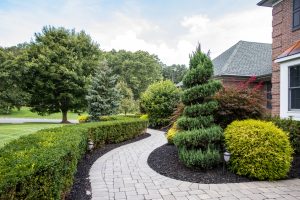 You've probably noticed that as the seasons change, so does the condition of your lawn. The best way to ensure a thick, green, and healthy lawn in the spring is to give it some well-timed care in the fall. With Jersey Landscaping's fall cleanup services, you'll be able to take full advantage of this vital growing period and enjoy a lush, beautiful lawn when winter passes.
NJ's Best Fall Lawn Care Company
The seasonal shedding of leaves, shrubs and other plantings can wreak havoc on your lawn. Instead of taking on the back-breaking raking and disposal yourself, bring in our expert fall lawn care team. For more than 40 years, we've been caring for the landscapes of Monmouth County with personalized yard maintenance and application choices, including:
● Leaf Removal – Our crews use blowers, rakes and power vacuums to remove leaves and debris throughout your yard and from your landscaping beds. Schedule this once or more to help prevent damage and keep your yard beautiful for seasonal entertaining.
● Garden Clearing – Garden areas die off in the fall. Our fall cleanup services include the complete removal of wilted, dead vegetation for a beautiful appearance and easier regeneration in the spring.
● Pre-Winter Mowing – As your lawn goes dormant in winter, a final mowing at the ideal grass length helps it recover once the snow is gone.
● Lawn Evaluation – We'll check your lawn and recommend fertilization or other treatments to prepare it for a rapid and lush regrowth.
Don't take on the difficult task of fall yard maintenance on yourself. Call the professionals.
For more information about our fall lawn care services, or to speak directly with our team, contact us today. You can even get a FREE ESTIMATE on your landscaping project, so fill out our web form or call us at 732-462-4289.