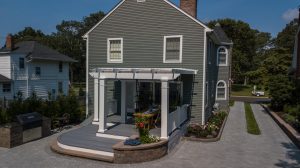 Mantoloking, NJ bore the brunt of Superstorm Sandy – but the rebuilding process is underway! An important part of that rebuilding process is your landscape design. Jersey Landscaping, LLC is has been a proud part of the recovery process for the last years, helping business owners and homeowners create sturdy and beautiful outdoor spaces.

Our fully insured and licensed team of contractors and designers can create sustainable, eco-friendly landscapes for your Mantoloking, NJ home or business at a price that's right for you. We can design the traditional shore town décor or give you something new and fresh.
Landscapes and Hardscapes in Mantoloking, New Jersey
At Jersey Landscaping, we do more than plant flowers; we give you a sustainable design that can withstand the elements and still look beautiful. We use locally sourced stones like bluestone to build retaining walls, outdoor entranceways, decks and patios. For a more traditional look, we offer gorgeous brick pavers and driveways.
We also use plants and flowers that are native to the Mantoloking, New Jersey area. They're not only less expensive, but they thrive in the sandy soil without becoming invasive. Because foundation plants, trees and shrubs are used to a saltier, higher water table, they know how to secure themselves in the ground and how to bend with the wind, leading to less soil erosion and a sturdier plant.
Additional Services by a Trusted Mantoloking Landscaper
Jersey Landscaping offers a wide variety of custom landscape services to residential and commercial clients in Mantoloking, New Jersey, including:
Residential and commercial maintenance
Installing irrigation systems
Design and installation of outdoor lighting systems
Design and installation of water features such as rock gardens with waterfalls and koi ponds
Outdoor kitchen and fireplace design
Commercial snow plowing
Whether you're rebuilding or refreshing your outdoor space, Jersey Landscaping can help. Put our skills and 40+ years of experience to work for you.Please call 732.462.4289 or fill out our request a quote form to speak with a Mantoloking landscaper.