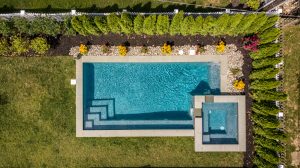 There's a lot of natural beauty in Point Pleasant, NJ: leafy trees, local flowers and (of course) the majestic ocean. At Jersey Landscaping, LLC we create landscape designs that serve as extensions to that beauty, bringing as many or as few of the natural features into your space.

For the last 40+ years, Jersey Landscaping has provided high quality exterior design services in and around Point Pleasant, NJ. As one of Monmouth County's premier landscaping design companies, we take the ordinary and make it extraordinary. We're a fully licensed and insured team of design professionals who can make any shore residence or business stand out from the crowd.
Why We're the Right Choice for Landscaping in Point Pleasant, New Jersey
Because we serve clients in Monmouth County, our contractors and designers understand that certain stones and plants work better with a particular type of soil and water table. With the sandy soil in Point Pleasant, New Jersey, it's imperative that our landscapes are not only founded with local species, but that are sustainable on every level. This keeps costs lower for our customers, and ensures that every space is its own eco-friendly system.
Point Pleasant Landscaper Services
Out Point Pleasant landscapers offer a wide array of services for residents and business owners:
Commercial and residential property maintenance, including irrigation systems
Brick and natural bluestone patios, pavers, walkways and entrance ways
Ambiance and security lighting using solar and low-voltage lights
Water features such as koi ponds, rock waterfalls and gardens, and fountains
Snow plowing services in winter (commercial clients only)
Natural stone and brick retaining walls
Outdoor kitchen areas, fireplaces and fire pits
Whatever your Point Pleasant, NJ home or business needs are, we can create a custom design that works for your style and your budget. Professional landscaping adds to your curb appeal and your ROI, because proper maintenance can increase your property's value. If you live in Point Pleasant, New Jersey and want a new look, please call 732.462.4289 or fill out our request a quote form.