Jersey Landscaping, LLC is a preeminent landscape design company in Monmouth County. For 37 years, we've offered home and business owners in Rumson, NJ exclusive, custom designs for their outdoor spaces. Our fully trained and licensed landscape architects work one-on-on with you throughout the design process, ensuring that your visions and realized in the fully polished product.

Combining Form and Function in Rumson, New Jersey Homes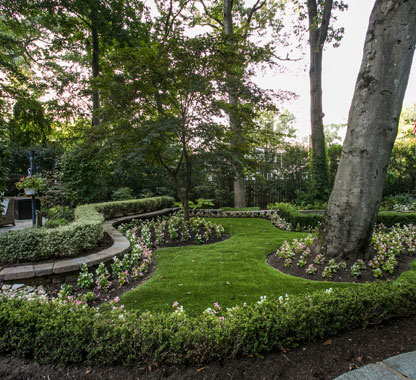 Between the Navesink River and six public parks, there's a natural beauty to Rumson, New Jersey not found in other areas of the state. Our design architects create landscaping designed as an extension of that natural beauty. Our team offers homeowners a wide array of options, including:
Eco-friendly and solar lighting options
Local flora that flourishes in Rumson, NJ's soil
Bluestone and local stone hardscapes and retaining walls
Elaborate outdoor kitchens and cozy, intimate seating areas with fire features
Sumptuous backyard ponds
Patios, decks and pavers made of locally sourced materials
Whatever your landscaping needs are, Jersey Landscaping provides reputable and professional services done efficiently and correctly.
How a Rumson Landscaper Can Help Grow Your Business
Business owners and commercial clients can benefit from professional landscaping services. At Jersey Landscaping, we build outdoor seating and eating areas, design unobtrusive security lighting, and create warm and inviting landscapes that turn potential clients into actual clients. We design create cost-effective and eco-friendly water and hardscape features that add to your curb appeal while respecting your bottom line. Jersey Landscaping also provides commercial maintenance and snow plowing services to business owners and operators in Rumson, NJ.
From sparkling ponds to foundation plantings, we offer Rumson, New Jersey home and business owners landscape designs that increase the beauty and property value of their spaces. Jersey Landscaping, LLC provides only the highest quality service and uses only the highest quality materials. To speak with a landscape architect, please call 732.462.4289 or fill out our convenient quote request form to reserve a consultation with a Rumson landscaper.