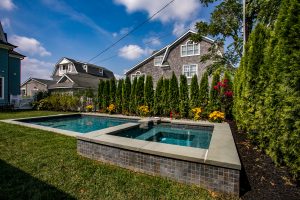 There's no denying that Spring Lake, NJ is one of the prettiest little towns on the Jersey Shore. At Jersey Landscaping, LLC, our talented team of landscape designers and contractors can help you keep it that way! We've been helping home and business owners in Spring Lake, NJ and its Monmouth County neighbors create gorgeous, sustainable landscaping for the last 40+ years. From beautiful pavers to commercial snow plowing, there's nothing we can't do.

Residential and Commercial Landscape Design in Spring Lake, New Jersey
When you hire the professional services of Jersey Landscaping, you work with a fully licensed and insured company dedicated to bringing out the beauty of your outdoor space. We offer residential and commercial clients in Spring Lake, New Jersey a wide array of landscaping services, including:
Scheduled property maintenance for your property, including irrigation systems
Upscale water features such as ponds and fountains
Eco-friendly foundation plantings which thrive in the Spring Lake, New Jersey soil
Brick pavers, decks and walkways
Locally sources bluestone hardscapes, such as patios or retaining walls
Solar and low-voltage lighting systems, designed to showcase your landscaping or to deter intruders and criminals from vandalizing your property
Outdoor kitchens and fire pits for every size backyard
What a Spring Lake Landscaper Can Do for You
At Jersey Landscaping, we understand that beautiful landscaping adds more than just curb appeal; it can actually prolong the life of your home and increase the value of your property. We don't use invasive species of plants which can hurt your home's foundation as they grow, and we choose natural-looking stone to help your landscaping look less obvious – and more beautiful.
Business also benefit by working with a professional Spring Lake landscaper. Studies show that professional landscaping is more likely to attract potential clients, and scheduled maintenance gives your company a warm yet professional feel. Furthermore, we help businesses obey the law by clearing snow and ice from parking lots and walkways, preventing you from being ticketed ­– and allowing potential clients to visit your property.
Professional landscaping adds a lot to any home or business. We proudly offer landscaping services to clients in Spring Lake, NJ throughout the year. Please fill out our convenient request a quote form or call 732.462.4289 to speak with a Spring Lake landscaper.