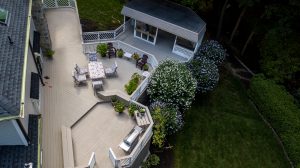 Extend Your Living Space to the Fresh Air
Imagine how much more enjoyable your backyard would be if you extended your living space beyond the four walls of your home. With Jersey Landscaping, you can. We design and build custom outdoor rooms and spaces that complement your lifestyle and the rest of your home.
Custom Build Your Outdoor Living Space
Our team has over 40 years of experience creating outdoor spaces that are not only beautiful, but functional as well. We have the skill and expertise to create an environment that seamlessly blurs the line between the indoors and the backyard.

Transform Your Backyard
Covered Patio, Fireplace, Outdoor Kitchen and More
No matter where you live, entertaining family and friends is often more pleasurable when you can do it outside. Let Jersey Landscaping design and build a custom outdoor space that fits your life—from a backyard covered patio for hot and sunny days to a fireplace that keeps you cozy on chilly evenings.
And while outdoor living spaces with fireplace designs provide plenty of heat, we can bring even more with an outdoor kitchen that helps you prep, cook and eat without having to go in and out of the house. We can even integrate lighting installations and technology like TVs and sound systems to take things to the next level.
Contact Our Landscape Designers for a Consultation
Designing outdoor rooms can be a complicated process. Our experts are here to answer your questions and make recommendations based on the size of your backyard. Covered patio designs, pergolas, lighting, hardscaping, and more, can turn an ordinary landscape into an unbelievable escape.
Call us today at 732-462-4289 for a FREE ESTIMATE or ill out our request web form today.