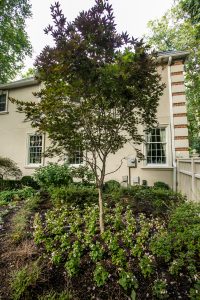 The motto of Sea Girt, NJ is "Where the Cedars Meet the Seas;" at Jersey Landscaping, LLC, we can make that motto come to life. For the last 40+ years, our fully licensed and insured team landscape designers and contractors has been helping home and business owners in Sea Girt, NJ make their properties even more beautiful. From the traditional shore décor to more modern or rustic designs, we're guaranteed to make your outdoor space something special.

A Wide Variety of Services for Commercial and Residential Clients in Sea Girt, New Jersey
As one of Monmouth County's premier landscaping design companies, we won't pretend that Sea Girt, New Jersey isn't one of our favorite boroughs. We're uniquely equipped to create gorgeous designs that work with your sandy soil and water table level. We use locally sources materials and foundation plantings that weave seamlessly into the natural setting, but add enough flair that your property stands out. Our full line of services includes:
Landscaping and Property Maintenance. Maintaining your property not only adds to the beauty of your Sea Girt, New Jersey home or business – it also adds to the overall property value of the area. From pruning your shrubs to changing the look of your space entirely, Jersey Landscaping's design consultants can create the look you want for a price you can afford.
Outdoor Lighting. The right outdoor lighting adds beauty and security. We design and install eco-friendly solar lighting, walkway lights and uplights, as well as bold lighting fixtures for extra flair. Outdoor lighting serves as a deterrent to would-be criminals, too, so adding lights to your design keeps you and your property safe.
Patio and Hardscape Design. Natural stone and brick add a touch of tradition to even the most modern homes. We create gorgeous brick walkways, sumptuous bluestone patios and natural stone retaining walls that add depth and dimension to your property. By using stones from local quarries, your Sea Girt landscaper can help keep your costs down.
Pavers. Pavers have come a long way in the last four decades. At Jersey Landscaping, we can create walkways, enhance decks and install beautiful driveways with brick and concrete pavers.
Water Landscape Design. Bring the beauty of the ocean into your own home or business with sparkling water features. We build custom ponds with cascading waterfalls and install bold fountains that make a statement. Our bubbling rock gardens give employees a tranquil place to rest during breaks and lunch hours, leading to a happier work environment.
Outdoor Kitchens and Stone Fireplaces. From snuggling around a fire pit to hosting the annual employee BBQ, our outdoor kitchens and stone fireplaces have as many uses as you can dream up. They're durable and affordable, and let you enjoy the party with your guests and colleagues.
The benefits of professional landscaping cannot be denied. You'll add value to your property and value to your life. Please fill out our convenient request a quote form or call 732.462.4289 to speak with a Sea Girt landscaper. See how Jersey Landscaping, LLC can help you today!