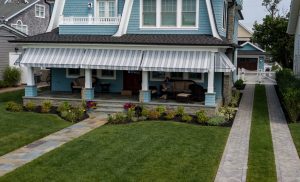 Since 1976, Jersey Landscaping, LLC has been creating gorgeous designs for residential and commercial customers in Asbury Park, NJ. Whether you're looking to recreate the glory days of the boardwalk or searching for something new and funky, our licensed and insured team of professionals can help make your outdoor space the epitome of form and function. From cozy fire pits to professional entrance ways – and everything in between – we can make your Asbury Park, NJ home or business shine!

Professional Landscape Services for Asbury Park, New Jersey Clients
Jersey Landscaping has been among the premier Monmouth County landscaping companies for decades. We proudly offer our clients in Asbury Park, New Jersey a number of outdoor designs and services to choose from, including:
Property Maintenance and Design Whether your shrubs need pruning or your entire outdoor space needs to be updated, we offer an array of eco-friendly designs for your space in Asbury Park, New Jersey. We offer regularly scheduled maintenance packages for new and existing customers.
Commercial Snow Removal. We've had a rough few winters, and it looks like the next few will be snowy, too. Our commercial snow plowing services keep your Asbury Park, NJ business up and running, and in compliance with state laws.
Natural Stone and Brick Designs. From retaining walls to bluestone decks and patios, we do it all! We also design and install beautiful brick pavers for walkways and driveways.
Ponds and Rock Gardens. Always wanted a koi pond? In love with the sound of water cascading over rocks? Your Asbury Park landscaper from Jersey Landscaping can build decadent water features for backyards. We also design relaxing waterscapes that employees and customers can enjoy.
Outdoor Lighting. Solar lights, low voltage lamps, security spot lights: we do it all. The right lighting not only adds to your landscape's beauty, but it serves as a deterrent to potential criminals.
Outdoor Kitchens and Fireplaces. An outdoor kitchen is great for parties. Now you can host your friends or the employee picnic and not miss a minute of the fun.
Ready for a brand new look? Jersey Landscaping is waiting to help! We can transform any space into a virtual oasis.  Please fill out the request a quote form above or call us at 732.462.4289 to speak with an experienced Asbury Park landscaper.