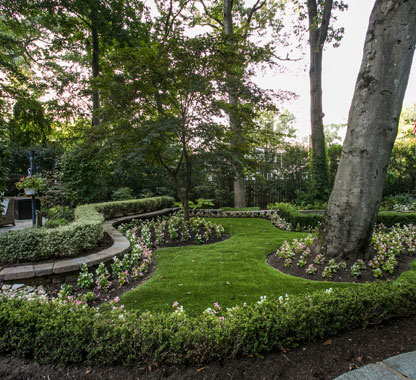 When March and April roll around, it's time to start thinking about cleaning up your landscape. But let's face it, a thorough spring landscape cleanup is a big job. Why not let the Jersey Landscaping team handle it for you?
Over 40 years of trusted expertise go into every lawn care spring clean up project for residential or commercial landscapes. We make it easy, so you can focus on enjoying your outdoor space as soon as the weather starts warming up.
What Spring Lawn Cleanup Services Do We Offer?
Our fully licensed and insured team of contractors offer all the spring lawn cleanup services you need, including:
Aeration
Clearing away leaves, branches and clutter
Hauling away and composting debris
Mowing the grass
Pruning and trimming trees and shrubs
Re-edging and cleaning garden and flower beds
Redefining the borders of the lawn
Re-seeding damaged areas of the lawn
If you're looking for long-term landscape maintenance, we do that too! We'll work with you to create a plan that stays within your budget and exceeds your expectations. For more information about our spring landscape cleanup offerings, contact us today at 732-462-4289.