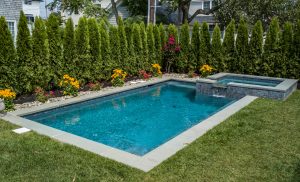 The summer months are for enjoying the fresh air and sun, but that's hard to do without professional landscape cleanup services. This June, call Jersey Landscaping and we'll take on the task, saving you money and more time for summer fun!
Why You Need a Yard Clean Up Company in Summer
Just as it's important to regularly clean your house, it's essential for a yard clean up company to perform a seasonal cleanup of your property–especially in summer. This routine service ensures your landscape is cleared of debris, and remains pristine and healthy.
For over 40 years, we've been helping properties throughout Monmouth County thrive through the heat of summer. No more worrying about back-breaking work, chemical treatments or insecticides. Our talented team will clear your landscape and provide the services it needs to flourish and look beautiful every day.
Our summer landscape cleanup services include:
Aeration
Clearing away leaves, branches and clutter
Hauling away and composting debris
Mowing the grass
Pruning and trimming trees and shrubs
Re-edging and cleaning garden and flower beds
Redefining the borders of the lawn
Re-seeding damaged areas of the lawn
If you're interested in partnering with a trusted yard cleanup company for seasonal or long-term landscape maintenance, we have you covered. We'll evaluate your property and customize a plan that makes your outdoor environment more enjoyable. Contact us today at 732-462-4289.