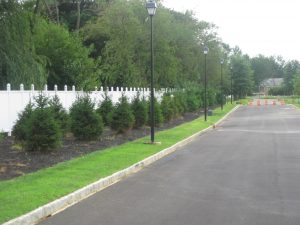 Regular commercial landscaping services do more than make your property look nice: they protect it from wear and tear. At Jersey Landscaping, LLC, our commercial landscapers have been protecting and improving business properties since 1976. Our dedicated and professional team of designers and contractors work with businesses of all sizes to ensure that their property is safe and secure for the entire year.

For companies who believe that commercial landscape design is only important during the spring or summer months, we offer these tid-bits for your reference:
Great landscaping brings in business at all times of the year.
Regularly maintaining your property can help you avoid costly repairs in the winter, when water lines freeze.
Falling tree branches can not only ruin your building; they can also knock out power — or fall on passers-by.
Part of commercial property management in NJ involves keeping your space well-lit, which reduces vandalism while making your community safer.
Work with Commercial Landscapers You Can Trust
The talented team at Jersey Landscaping, LLC offers commercial landscaping services throughout Monmouth County. We'll sit down with you to discuss what your company's needs are before we make recommendations. Out commercial landscapers are dedicated to improving your property with regularly scheduled maintenance that won't hurt your wallet.
We stand by our commercial landscape design, so you're always guaranteed to work with a person who understands who you are and what services you provide. We don't farm out work to other companies, either, which ensures that you'll received the highest level of customer service each and every time you call us.
Commercial landscape design can add value to your business's property. Jersey Landscaping, LLC offers a wide array of landscaping services for businesses throughout Monmouth County. To discuss commercial property management for NJ companies, contact us today. You can even get a FREE ESTIMATE on your landscaping project, so fill out our web form or call us at 732-462-4289.