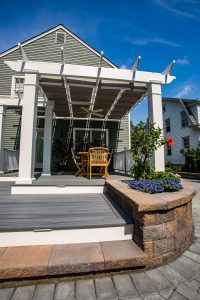 The stately Victorian homes in Monmouth Beach, NJ are beautiful in their own right – but with the right landscaping, they provide an arresting sight. Jersey Landscaping, LLC has served clients in and around Monmouth Beach, NJ for since 1976. Our fully licensed and insured team of landscape architects and contractors create sumptuous landscaping designs in keeping with natural beauty of the borough. For a new twist on the traditional style, contact Jersey Landscaping.

Commercial and Residential Services for Monmouth Beach, New Jersey
Monmouth Beach, New Jersey business owners fare better when their landscaping is maintained. That's because a well-maintained landscape increase property values for both homes and businesses. Jersey Landscaping proudly offers an array of commercial and residential landscaping services in Monmouth Beach, New Jersey, such as the design and construction of:
Water features, such as ponds, rock waterfalls and fountains
Natural stone retaining walls
Natural stone and brick pavers for walkways, entranceways and driveways
Outdoor lighting system, including low-voltage lights and security spotlights
Outdoor kitchens, sitting areas and fireplaces
Patios and decks
New landscapes featuring local foundation plantings
Your Monmouth Beach landscaper will maintain properties that we designed as well as ones we did not, ensuring that your space keeps its timeless splendor throughout the season. We also handle commercial snow plowing for Monmouth Beach, NJ businesses.
Every landscape design we create is tailored to your exact specifications. We take the size of your outdoor space into consideration before making recommendations on plantings, hardscapes and additional features. Whether your home or business has existed since 1906 or 2006, we have the tools, the resources and the skills you want in a Monmouth Beach landscaper.
Discover what Monmouth County residents already know about Jersey Landscaping, LLC. To speak with a landscape architect about your projects, please call 732.462.4289, or fill out our convenient online form to request a quote.