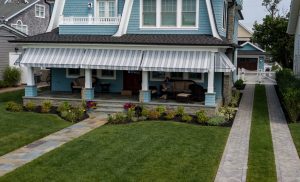 If you want a great lawn, you need a schedule to stick to. Check out this lawn service checklist and call Jersey Landscaping to start planning.
Create a Lawn Care Schedule
The key to achieving a lush, is organization and planning. Start by creating a lawn care schedule by season to control weeds and disease, and ensure your maintenance is stress-free and simple.
🗹 Watering: Frequency and amount depends on where you live and the type of grass, plants and soil on your property.
🗹 Mowing: Typically once per week.
🗹 Edging: Sleek lines boost your curb appeal.
🗹 Fertilizing: Typically a seasonal task.
🗹 Weed Control: Stay on top of pesky weeds by tending to them often.
🗹 Repairs: Dead spots, animal damage and crabgrass require touch-ups.
That said, determining the right lawn care schedule will depend on your zone and grass type, but in general there are certain tasks to complete each season.
Seasonal Lawn Care
Early to Late Spring
🗹 Cleanup
🗹 Trimming of hedges, shrubs and trees.
🗹 Remove any dead debris.
🗹 Aerate your lawn.
🗹 Apply pre-emergent herbicide
🗹 Fertilize lawn
🗹 Weeding
Click here to learn more about Spring cleanups
Summer
🗹 Pest Control
🗹 Regular mowing
🗹 Water to prevent drought stress
Click here to learn more about Summer cleanups
Fall
🗹 Reseed if needed
🗹 More weed control
🗹 Second dose of fertilizer
🗹 Mow lawn one last time
Click here to learn more about Fall cleanups
Winter
🗹 Use a soluble fertilizer or calcium chloride to remove ice
Click here to learn more about Winter cleanups
This lawn service checklist should help you stay organized and on track throughout the year. With the help of Jersey Landscaping, you'll enjoy your lawn year-round.